Bio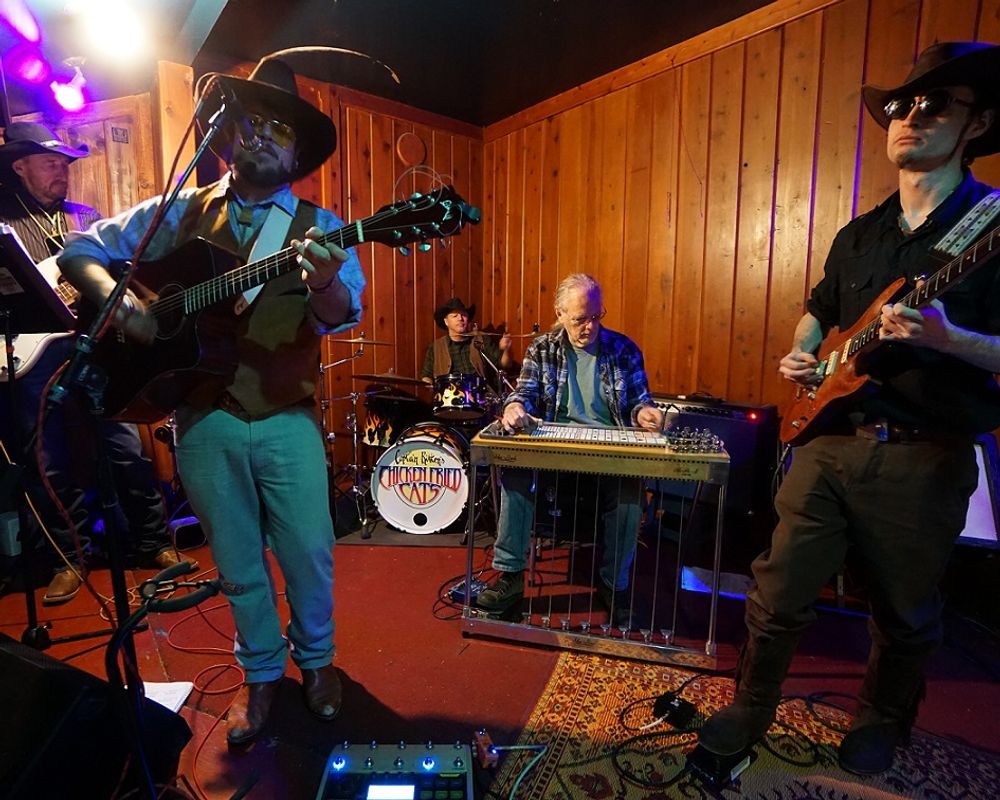 Captain Kitten's CHICKEN FRIED CATS
Texafornian Outlaw Country
Captain Kitten's Chicken Fried Cats are a five piece country band, based out of the Sierra Foothills, with members littered over three counties along historic highway CA49. Exploring deeply worn valleys of Americana-- edged and punktuated by fresh, humorous peaks--these five fine felines cook-up a delightfully greasy meritage of class and crass--combining well-refined, gutsy, chick'n pick'n licks and starry, cascading, pedal steel with Captain Kitten's raunchy wit and creamy baritone drawl--a sound they've dubbed "Texafornia Outlaw Country." They are currently watching the dream grow and hunting down gigs, while developing this here website and getting the word out about this exciting new project. Producing solid recordings of this golden material also ranks high on their priorities list.
Singer/songwriter and native Texan, Ian Ileson (aka Captain Kittens), spent near a decade hitch-hiking back and forth across America--a lone carousing alley-cat yowling aside the great pedestrian thoroughfares of these United States--honing his songcraft, cultivating his performance cajones, and making sweet love to every up and down along the way. Eventually, he stumbled onto the deed of a little piece of property--3500 ft up on the Pliocene Ridge in Sierra Co., CA--where he has spent the last 8 years or so living the good life and growing God's green gift. During this time, he was still writing songs but playing out very little. It wasn't until--local bluegrasser and friend--Kyle Kunert (of Caltucky) invited Kittens to play a benefit show in the summer of 2021 at the Brass Rail Tavern in North San Juan, that he emerged from relative musical obscurity. Here he met lead guitarist, Brishen Geiseler, who was also playing on the bill with his blues project, Tyler Foote Walkers. Kittens approached Brie (as he's called for short) to compliment his playing and mentioned that there seemed to be a conspicuous country shaped hole in the local scene and that he'd like to start a legit Outlaw outfit. Brie responded emphatically, "well, I'm the only chicken picker in this town so you've come to the right place... let's give it a shot!"
... and give it a shot we did.
Brie reached deep into his network of musical connections and--after a handful of hirings and firings--guns pulled and prayers answered-- Chicken Fried Cats, as you see it now, was born. The rest is history.
As of now, we are getting the word out and making relationships with venues favorable to our brand. Soon, we will be working on a set of pro videos and the production of our first studio album. Stay tuned!
Please check our music page and bookmark the site--as it will be evolving consistently. Lastly, but not leastly, sign up to our mailing list and follow our Facebook page to keep up to date with all Chicken Fried Cats happenings now and in the future.
See ya at the next one y'all!